Over the years I have tried to explain 'no taboo' or 'anything goes' phone sex with the understanding that there is an obvious flaw to any definition: taboo topics are completely subjective. When you run across a site that claims to cover the taboo subject matter, what the proprietors really mean is that the talent will talk about whatever you believe to be kinky. For most guys that's oral, anal, cuckolding, swapping …yawn. Every operator should be able to handle those topics and if everybody does it, it is neither taboo nor extreme.
Why is this an issue? It's an issue because there is a certain sect of adults who call phone sex to discuss truly 'sick shit'. And by sick shit I am not being judgmental. I am simply separating what is extreme from what is mainstream. Legally I cannot tell you what can be discussed on an extreme or 'no taboo' phone sex line. I cannot tell you, I cannot record it, I cannot describe it on my blog and I most certainly cannot share that information on social media. But I can give you a hint 😉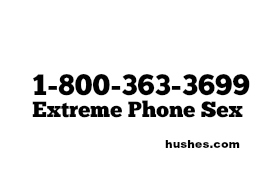 I am going to use a phrase I despise: in real life. Extreme phone sex is sick shit that if done 'in real life' will land you in jail. You will be arrested, fingerprinted, given a trial by your peers who will after viewing the video evidence recommend you spend time behind bars and when you get out you will have the distinction of being a registered sex offender. Now there is probably some smart ass listening who is thinking of an obscure sex act still on the books in a southern state. My mythical trial happens in New York City or San Francisco, ok?
If the thing you want to talk about would land you in prison, then that thing is what I consider an extreme phone sex topic. Still unsure of my meaning? Look at any phone sex site and pay attention to their prohibited content. I have stated for years that I do not talk about blood, goats or kids. These topics are extreme, and if that is something you want to talk about then you need to call a truly extreme phone sex line – 1-800-363-3699.
A Word About Pricing. No taboo fantasies are a premium service. Allow me to explain. Let's say you run across a phone sex site with 100 operators. Less than 10% will be willing to handle your extreme fantasy. Of that half of them will do it solely for the money and maybe 1 or 2 want to do it because it turns them on. You want that last group of rare girls who will do your taboo fantasy justice but only at a premium price. Oh, I am certain you can find a woman who will do it for less but over time (especially if she isn't really into it) she will grow to resent your calls and stop taking them altogether and then you'll need to find another chickie who will follow the same exact pattern. Be smart about it. Start with the best and stay with the best. My extreme, taboo girls are so kinky that they don't do it for the money. They do it because they like it. Call them at 1-800-363-3699.