We should all give a round of applause to the folks at American Pie where the phrase "Mom I'd Like to Fuck" or MILF was popularly coined. Thus began an era by which the older, more experienced sexy woman was finally celebrated. Oh, there was Mrs. Robinson in The Graduate and Jane Seymour in Wedding Crashers. However, mature women have never been sought after as they are today.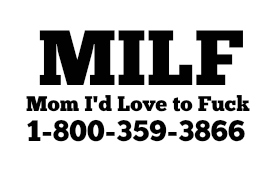 Perhaps its the allure of a societal taboo or simply the experience of having a woman who knows all the tricks and the patience to make certain you get everything that is coming to you. The fact that these older babes are at their sexual peak and are devoid of all inhibitions makes for a phone sex experience that will leave you craving more of their attention. These women know exactly what they want and their admirers enjoy being in the backseat.
Take a ride with any of my MILFs, call 1-800-359-3866 or a grab a quickie at 1-888-847-8979.