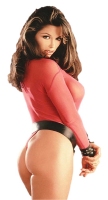 I hope that I have been able to answer most of your questions. If I have and you are ready to call, my toll-free number is 1-888-669-6389.  However, if you still have questions or need a little more information about anything you found on the site, send me a message via the contact form below.  Please do not ask me for a freebie, or about something that is clearly printed on the site like my phone sex rates or my non-existent "specialty".
In addition to the feedback form located at the bottom of this page, you may also ask your question(s) via one of these social media profiles:
Cheap Phone Sex on Twitter
Cheap Phone Sex on GooglePlus
Cheap Phone Sex on Facebook
Cheap Phone Sex on YouTube
Cheap Phone Sex on Pinterest
Cheap Phone Sex on Tumblr
In lieu of calling my phone sex line I would appreciate it if you would ask all your questions here. Outside of the social media properties listed above the only other way to contact me electronically is through this feedback form. Neither attachments nor hyperlinks are processed. All questions are answered on the blog within 24-36 hours.