Hi, my name is Cheryl and I'm a sex blogger. My specialty is phone sex and my service, Cheap Phone Sex with Cheryl, is where you may talk with me at an affordable rate. The number to call is 1-888-669-6389. Introduce yourself. When I'm not available my girls are. They're available 24/7 and you may talk to them about anything you want.
New phone sex callers this is the 'skinny' on my service.
Full audio → https://t.co/iXPf9s4me7
Transcript → https://t.co/UFhYY4tvWu pic.twitter.com/tBnLkmhbj6

— Phone Sex (@PhoneMistress) August 27, 2019
What's the difference? Well, I have some nos or what I'm now calling turn-offs because some people do not understand boundaries. Something that you need to know upfront: to chat with me you must be 23 or older and to chat with any of my girls you must be 18 or older. If someone who is 18 and not yet 23 calls me I will forward you over to my other service. Got it? Good.
On my phone sex blog, Hushes.com, I discuss
How my service works with me and with my girls.
What the best practices are whether you call my phone sex service or call another service. What I mean by "best practices" is what's good for your wallet and what's good for you…well you know.
The phone sex industry as a whole. For example, I dig into why we have so many regulations and why your favorite entertainer disappears from the internet.
My favorite topic (me, my service and my girls) and the best way that you can entertain us. Phone sex is about reciprocity and mutual masturbation.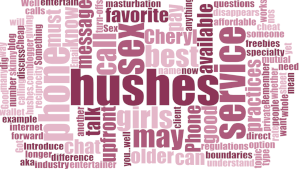 So I'm giving you the skinny aka cheat sheet on how you can be the best client after you pay. Remember phone sex is a pay upfront type of service. There are no freebies.

If you have any questions you may direct message me here or private message me here. Email is no longer an option.

«