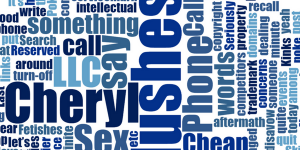 I have a simple policy as it concerns my phone sex blog: I only write when I have something to say. Last year I had very little to say and dealing with the aftermath of a series of personal events had even less to say this year. Then about 10 days ago something changed. I cannot quite put it into words but it's a good thing 😉
In other words, let's do this!
Earlier today I sent a list of links and domains to disavow. If you recall my last post was about competitors screwing around with my copyright among other things. Seriously, if you can't do it yourself hire someone or quit but never steal my intellectual property.
I am a bear you do not want to poke.
____
To chat with me call 1-888-669-6389. Do not call to ask questions about my service Cheap Phone Sex with Cheryl or check to see I am available, etc. That is a definite turn-off. If you are into some extreme "stuff" …um, yeah, I have bitches for that. Call them.