Earlier today I went on a mini-rant regarding the rates for my girls. It's called Cheap Phone Sex with Cheryl for a reason – the rate and the fact that I am the one providing the service at an inexpensive, affordable price. My phone sex number is 1-888-669-6389. My phone sex rates are ridiculously cheap and if you want an even bigger discount, purchase a package. The post was sponsored by the number "12" as in my phone sex rate and the word "live" as in live phone sex. Oh, and fuck you Sesame Street for going to HBO. What's next? Rupert Murdoch is going to buy National Geographic. Oh, wait. Damn!
I have mentioned this on several occasions. Potential new clients are always amazed when they call my number. Instead of hearing a recording I answer – live! So, those who are used to hearing a commercial message of prices and strange background music – seriously what is it with the porno music – are taken aback when instead of a pre-packaged recording they hear me – did I mention live! Some guys hang up out of fear thinking they reached someone's home. Well, you did. You reached my house. Don't worry they eventually call back because dick hardness outweighs the fear. Others start asking a ton of questions: how much is the call, how will it show up on my credit card, what other girls are available, do you have a twin and can she join in …Still, other potential callers believe the call starts the minute they hear my voice …live. No, no and hell no!
Years ago before I started Hushes, phone sex companies were run as call centers. Later when the telephony changed and toll-free numbers became affordable for regular people and not just corporations, the biggest selling point for a phone sex company was that you could talk to the girls from their home or rather bedroom. Now that I think of it you don't really see that sort of advertising anymore – call Cheryl at her home. Perhaps it's because now everyone has a cell phone and the natural assumption is that the hottie is either at home or someplace naughty to sneak in a sexy phone sex call.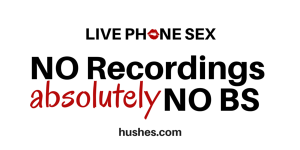 Today most phone sex places use an automated system to process credit cards and provide the usual information a client needs before purchasing a phone sex session – prices, billing, etc. I do not use an automated script. I answer ALL calls myself, go over the pricing with you and process the credit card information. Considering the number of people I talk to in a day that is a lot of talking and we haven't even gotten to the good stuff yet. This is why I have relegated ALL questions to this blog. Meaning if you have a question ask here. Do not ever call me to ask a question. If you think I will make one exception for you, you will be disappointed.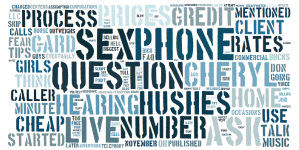 When you call, I will ask if you are a client or a new caller. If you are a new caller, I will ask a series of question for the sole purpose of processing your credit card. If you try to deviate from this process, I will firmly and politely ask you to go back to Hushes.com to ask your question there. Do not attempt to slow fuck me e.g., answer my question only to ask a question. That shit does not work with me.

When you call me, the only thing you need to know is the price and my no-nos.

«