This phone sex blog is called Hushes and my phone sex service is named, Cheap Phone Sex with Cheryl because I am Cheryl and to chat with me the price is ONLY $12 BUCKS for 15-minutes. 100% live, 1-on-1 phone sex with me or one of my girls. Call me at 1-888-669-6389 for a session. Don't forget to purchase a phone sex package especially if love to masturbate. Today's word is monkey.
Chat lines are not the same as phone sex lines. It is apples and oranges my friends. Apples and monkeys! Lately I have received a huge influx of new potential phone sex callers who when they get me live start giving me 'the business' because they have to tell someone how they were duped into purchasing a plan or subscription or whatever they believed to be phone sex only to learn after purchase that it isn't live or explicit – in other words not phone sex – but some chat thing where the girls want to get married! As one guy said to me, "What the fuck am I going to do with TWO wives?"
A few years ago I did audio about this very thing because I saw a lot of affiliate marketers started to crowd the phone sex field. Again, not to mess with someone else's hustle I tried to explain the difference. Well, it's that time again.
What Are Chat Lines?
Chat lines are date lines. Datelines have a long storied history in this country. Since the very beginning 'for profit' organizations would place ads in newspapers across the country promising young women an opportunity to find a husband. Guys would pay for the matches. Think of it as a modern-day form of matchmaking. Bet you never realized that when you called a date line you were participating in the 20th-century version of matchmaking. Come on! Match.com? Get it now!
The real money was made in locales where there were few women. For example, Europe sent women to the colonies or East Coast matchmakers sending women out West. Our efforts to relocate women to cities where the male to female ratio is 2:1. Think mail order brides.
The business model has pretty much remained the same: women join sites for free and the men pay for an introduction to the ladies. Introduction seems to be the right word because it isn't live and it's rarely nasty and here's why:
The Dirty Secret Behind Chat Lines.
Recently a guy called pissed that he had been scammed by a chat line and lamenting why guys have to pay and women don't. It blew his mind when I told him.
The success or failure of a chatline depends entirely on how many women are available. The same is true for dating and cam sites. So, whoever is running the chatline spends all of his/her resources making sure the line is 'well-stocked'. Ads are placed (usually in the classified section) within various women's magazines. The ads promise to help the woman find suitable men in her locale. Oh did I fail to mention that chatlines are local? I will explain that in a moment. The ads geared towards women promise to find a guy she can date and one day marry. That sounds reasonable, right? Well, get a load of the ads for men.
The chat line advertises to men the following way: "Find hot and horny women who will phone fuck you and then fuck you in real life." Does that sound like the girl reading a classified ad in the back of Family Circle? Better Homes and Gardens? Vogue? Cosmopolitan? Well, probably Cosmo. Does that sound like an ad where the chick is trying to find a dude to have a nice dinner or maybe go to her sister's engagement party? It's a HUGE disconnect. Women are being asked to join a site for very traditional reasons e.g., find a friend or a lover or a husband. Whereas men are asked to join THE SAME site to find pussy.
So, what ends up happening? Usually, a chatline becomes a sausage factory with few ladies or for that matter pussy. Guys end up talking to each other. Seriously, some guys get so bored and want to get their money's worth that they switch over to the female side and …well I don't know EXACTLY what they do but some of the men have a Manti Teʻo complex.
The biggest complaint I have heard over the years is that there are a lot of professionals on date/chatlines. It is true. Many women in the adult entertainment business – cam girls etc. will set up profiles on chatlines and dating sites to create buzz for their service. And as a result, some men get a little ticked which when you think about it, they shouldn't. Because unlike them these ladies understand how a chat line works. The guys are there to find pussy and they have pussy! Seriously, what is the problem? Want it for free? I'll talk about this on another post but pussy is never free. You pay for it one way or another.
Summary Chatlines:
Chat lines are really date lines. Their business model is to 'stock up' on women which is done by providing free access to the service. Men pay to connect with these women who many times are adult entertainers.
So, if you are a guy looking to get laid, a chatline is your best bet. Only don't expect it to be free. No one is that lucky. My advice to entertainers is to tell the guy upfront what you do and why you are there and let him know, duh, 70%+ of the profiles are going to be from professionals. Non-professional women …this is your time to shine. You, my friend, are a rare jewel. In your messages, you should say that you are not a professional and in one sentence say what you want only not in lady-speak but guy-speak. Something like, "Hey, my name is Missy, and unlike these other hoes I am not a cam girl or whatever. I will not ask you to pay to see my naked pictures because I don't have any! So, if you are a gentleman and you are looking to meet someone nice and have fun, call me." First, no offense to sex workers with the "hoe" comment. I am simply making a distinction from another perspective. And of course, cam girls are nice. Matter of fact they are some of the nicest, well-grounded people I know. Ok? Non-pro ladies, do you see what I did there? You separate yourself from what the guys have undoubtedly come across, make it clear that you will not be providing the same type of "services" and then shame them into being decent. Definitely a pro-domme move. Keep in mind shaming and shunning are powerful tools.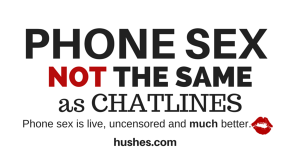 Channeling Colombo, one more thing, chatlines are local. The point is to meet the person. When you call a chat line all the prospective "dates" will be within a 50-mile radius.
Whew! That was a lot about chatting and dating. So, what's the difference?

How is Phone Sex Different from a Chat Line?
In phone sex you never meet the client. If phone sex operators met their callers well that would be a different kind of business, right? Right!
In phone sex the conversation is 100% live. You don't set up voice boxes and leave messages hoping the chickie will give you a call. Once your credit card is approved you are forwarded to a real, breathing human with a vag or a dick if you prefer.
In phone sex the chat is uncensored. Both you and the operator know why you called – pussy! So, the talk is explicit. You can say the 7 words you can't say on television: shit, piss, fuck, cunt, cocksucker, motherfucker, and tits. Plus the other words that will make some of you blush and all of you hard. Oh, and those late-night "phone sex" ads? Are not for phone sex! They are for chat lines! You can not advertise phone sex on network television.
In phone sex you understand from the get-go that this is a business where you 'pay to play'. And by the way I assume you like your dick so when it comes to fun time shouldn't you call a professional?
Why am I going over the difference between chat/datelines and phone sex? Why now?
Caveat Emptor Bitches!
I have gone over the myth of free phone sex and warned you of places promising extremely low phone sex prices aka as low as BS. There are a number of chat line affiliates hawking their services and masquerading as phone sex lines. Remember at the top of this post the pissed off new client and monkeys? It's the old switch and bait routine. These chatlines promise you phone sex for a few cents per minute and AFTER you make a purchase you come to find that the phone sex portion is an upsell costing $1.99 per minute or more. When you listen to these recordings watch out for words like "party". They usually refer to themselves as a "party line". Also, listen for the words "messages" and "greetings". They will tell you what you will connect with the girls through messages and greetings. Not live. Listen for an offer to provide "stories" or "eavesdrop" or enter a "voyeur" section where you are either the voyeur or the "girls" are. Another thing to watch out for as you go from site to site is to pay attention to the billing description. Sites can change names, domains, and girls but the billing is almost always the same. If you reach a site that pretty much says the same thing, has the same images, marketing text, etc. and the same billing then it is probably an affiliate program pointing you to the same service under a different name.
Don't get me wrong. There is a point to these upsells. Many people find listening to erotic stories very arousing and hearing others have phone sex is exciting. I use these same 'fillers' on my own phone sex lines. The only difference is I don't tell you it costs a quarter for a service that's upwards of $3.99 per minute.
Bottom line? Don't use the phrase "chat line" interchangeably with "phone sex". Apples and monkeys!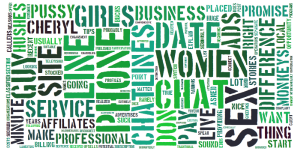 If you are still confused about what is what check out this list of chat line and phone sex opportunities. Notice how they keep the two types of services separate? Monkeys! It's a fairly comprehensive list of chat programs and a review of what various phone sex affiliates offer. So, if you are a webmaster, you may want to start there.

«