Vanity Fair's Tinder and the Dawn of the "Dating Apocalypse" was for me deeply disturbing. The focus was Millennials within the New York City area. I was amazed that so many of these young women admitted to making contact with a guy on Tinder and fucking him porn-style within moments of meeting. Nancy Jo Sales wrote:
"Like porn sex," says Jessica, "those women—that's not, like, enjoyable, like having their hair pulled or being choked or slammed. I mean, whatever you're into, but men just think"—bro voice—" 'I'm gonna fuck her,' and sometimes that's not great." "Yeah," Danielle agrees. "Like last night I was having sex with this guy, and I'm a very submissive person—like, not aggressive at all—and this boy that came over last night, he was hurting me."
Not the first time I have heard this. Several guys have shared with me a sex experience with their lover that went pear-shaped. Why did it go wrong? The majority of the time he was trying to put a 'porn move' on his girl. Take for example the Josh Duggar story. No, not the child molestation situation that involved his sisters. No, not his two Ashley Madison accounts. I am referring to the latest scandal when the now disgraced Duggar met with adult film model and stripper, Danica Dillon. He paid Danica $600 in private dances and then later paid for more "time". He stiffed her on the first donation, but then met for another sexual encounter in a different city when he gifted her $1500. Danica stated: "He was manhandling me, basically tossing me around like I was a rag doll. It was very traumatic. I've had rough sex before, but this was terrifying." When Ms. Dillon complained, Duggar explained his actions by saying he thought she liked it because she did it in the porn videos he enjoyed watching.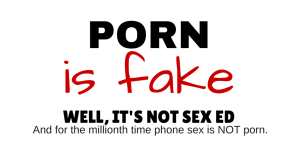 What we are witnessing is a generation of adults who were never privy to any sort of substantial sex education and yet grew up around a proliferation of porn – free porn. Porn has become a defacto sex ed class for most. So this abstinence only nonsense has been usurped by PornHub. And let me tell you something – tube sites are for entertainment purposes not to teach you how to have sex with your lover or hook-up.
Here are 3 examples of things guys see in porn and think is real:
Spitting – I am getting a little nauseous just thinking about this. Spitting is not sexy. No, you do not spit on your cock to make it wet or worse spit anywhere near your lover's vagina. Pussies are naturally wet. The only time it gets a little dry is if there is something off-balance or your lover is going through menopause. Is your girl going through menopause? If she is, get some lube or coconut oil. Do not spit on her! Spitting is nasty.
Ass to Mouth – No! Once the dick touches the ass it does not go in the mouth. Stop asking. That is unsanitary and nasty.
Dildos – You do not put your wife's dildo in your ass especially without telling her. My goodness! She re-washes the dishes after you wash them. What on Earth makes you think you can clean a dildo well enough to re-enter her pussy? Plus it's nasty.
Ladies, if you have a dildo at home and a man, get rid of that dildo. He'll never admit it but he has done terrible things with it. Buy yourself a new dildo, something safe, and put it in a locked box. Trust me on this. Later we'll talk about the weird stains on your panties and hosiery. #SexTips
I know what you're thinking, " …but but they do it in porn." Those girls get paid too. Tell me do you pay your lover for each "scene". Look I am the last person to yuck on someone's yum, but if you are getting your jollies off of this stuff because you saw it on a porn video, do yourself a favor and find your own yum. If your yum is spitting on a dildo, sticking up your wife's ass and watching her lick it …and that's her thing too, well god bless, don't lose that bitch. She's one in a million.
Say it with me, "Porn is not real." Repeat it over and over again. Still confused? Call me or one of my girls. We will drill in this one sex factoid – porn is not real.
____
For the record phone sex is not porn – indecent speech perhaps but not porn. Thank you First Amendment! Never fake. 100% real. As always to chat with me, call 1-888-669-6389. Callers may also purchase a phone sex package which is so much easier to explain than a series of small charges (hint hint). That's my phone. Talk to you soon!