When you receive the number of calls I do, you start to notice a pattern. Some callers are prepared and others are not. The guys who are not prepared take longer to process and have more un-sexy interruptions which to say the very least makes the phone sex session seem a bit disjointed. Here's a tip – always be prepared! Now I am not talking about the condom in your wallet. You do carry condoms in your wallet, right? Right?! In phone sex 'be prepared' means something entirely different.
Before calling a phone sex service, make sure you have your credit card available. Having your credit card outside in your truck while you are naked on the phone with me does not mean your card is "available". And, no, memorizing the number does not cut it either for two reasons: you never know what information a phone sex company needs off the card and come on let's face it in your current state there is very little blood going to your brain thereby remembering anything is a little difficult.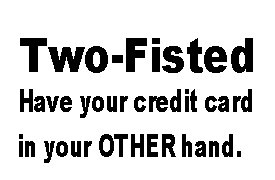 In addition to having your credit card available, make sure you are in a comfortable spot where you won't be interrupted. Oh, it's OK if someone drops by and you have to quickly put on some pants or the UPS or FedEx guy knocks on the door and you need to poke your head out with arms flailing. It happens. And, if there are other people in the house e.g., roommates or visitors, say it upfront that you cannot be too loud. Don't worry most phone sex babes know what to do and frankly enjoy the challenge.
To summarize: have your credit card handy (think of it as two-fisted calling), try to carve out some time to minimize interruptions and explain your current predicament – not your state of arousal but whether you have the space to get loud and freaky.
____
If one more person asks me how much I charge…. My phone sex price is cheap and affordable. It's 80¢ per minute with a 15-minute minimum. Or simply $12 for 15-minutes. That has been my price for years. It has never gone up and most likely never will. If you are a regular customer i.e., you have made a few calls with me earlier, you are welcome to purchase a phone sex package. My toll-free number is 1-888-669-6389.