While I am between calls, let me remind you that to chat with me, Cheryl, call 1-888-669-6389. As I stated earlier, you must be at least 23 to use Cheap Phone Sex. The price is $12 BUCKS for 15-minutes. Regular clients may also purchase one of my phone sex packages. Now let's get today's rant …
Hushes adheres to a 'no pink' policy meaning no nudity. Think nipples, genitalia and spread butt cheeks aka pink. After several years of following federal guidelines regarding perceived sexually explicit material, I removed suggestive images from my phone sex blog. Why? Well, the aforementioned guideline had in my opinion become a witch hunt of sorts and more draconian with each passing year. When I was advised that I had to maintain a file on my own photographs proving my age at the time a particular picture was taken …well let's just say that was the last straw. I am in the phone sex business not pictures or videos or webcam. This is an audio-text service and my words particularly my voice and the voices of my girls ought to be enough.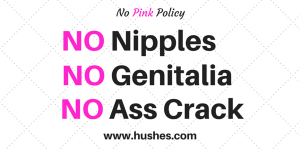 Another reason I decided to make Hushes no pink was that maintaining a social media presence had become a hassle as too many outlets confuse 'adult services' with pornography. As my well-informed admirers know all too well, phone sex is not porn. Phone sex is an adult service meaning one must be over the age of 18 (or as is the case here 23) to purchase a session or participate on a call. Phone sex is no different from other products and services which require an age minimum e.g., alcohol, cigarettes, voting (see I told you politics is dirty). While sex may sell and tobacco and beer companies may use it to gain your attention and persuade you to look for their brand, there is not a need here to display naked pictures or fuck videos to every looky-loo who passes by this site. Such personal items are for repeat customers or loyal clients. In other words: off site. You see phone sex is less 'dirty talk' and more erotic conversation. It is an intimate connection that is never scripted whereby every interaction is spontaneous and new. Phone sex is your opportunity to have a sexy, adult discussion with someone who is open, non-judgmental and let's face it, far kinkier than you.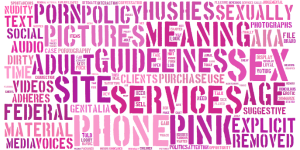 To summarize, since 2010 I have adopted a no pink policy meaning all material with even a hint of being "sexually explicit" has been removed from this site. Why? I was 1) Sick of having to deal with ridiculous federal guidelines which by the way are not to "protect children"; 2) Tired of being lumped in with porn sites because as we all know audio-text is not "porn"; 3) Played whack-a-mole with various social media outlets one time too many; and, finally 4) Wanted to get back to the art of aural pleasure aka phone sex. Ah, what a satisfying art form it is!

«