Phone sex is not porn. It is indecent speech, yes, but never porn. Yesterday, I found myself having to ask a question about this site on a webmaster forum which is often difficult. Why? Well, as I stated nearly a decade ago there are bigots (yes bigots) within the webmaster community. These bigots deem anything remotely sexy as "porn" and according to them "porn" is synonymous with spam. And as you, my dear, sweet admirers know all too well the only spam I do involves a cast iron skillet, butter, onions, garlic, and white bread. Yum! My dad likes tomato and mayo. That's good too …as a cold sandwich, but I digress.
The nice person who answered my question first flagged my link as not safe for work aka NSFW. WTF?! This sex blog follows a no pink policy. There is not a single nude image or sex video at Hushes.com. Nada! So, it begs the question, is my phone sex site safe for work? Does talking about pussy make a site NSFW? Hang on. I don't discuss pussy. I talk about fucking or more to the point masturbating. Does TALKING about masturbation sans exhibits make my sex blog NSFW? Really?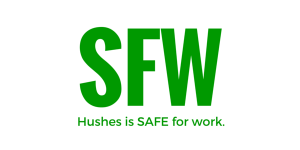 I talk about phone sex and masturbation and sexy things but how is that NSFW? There are joke sites more risque than my little slice of the internet. You see far more skin in any Carl's Jr. commercial. Who knew burgers and especially sausages were so damn titillating. Bet I am going to get dinged for saying titillating because it has the word 'tit' in it.
Come on! Surfing any social media platform you will find shocking shit (the only way to describe it) that will make you say 'shit' out loud. Images and videos of things that make me blush. Me! And I'm a fucking expert. Oh, I have examples. Some crazy lady on Twitter sent me dead baby pictures. Apparently, she chose to "educate" me on the pitfalls of abortion. Had to report that account. A dude posted a rape video on Tumblr. Had to report that account too. And don't get me started on the endless dick pics that random guys send for reasons I am guessing one needs to have a penis to understand. If I never see another pussy beard it will be too soon. And yet my little phone sex blog is NSFW?
All I am trying to do is help men and women masturbate better, have wonderful orgasms and maybe have a positive view of sex and the wonderment of their body. How can this act of altruism be sullied with the label NSFW?
It's because I charge a modest fee, right? Well, I am never going to apologize for being a capitalist. Fuck that! Speaking of which…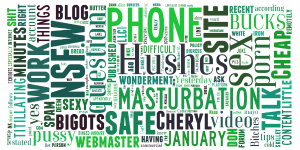 Cheap Phone Sex with Cheryl
ONLY $12 BUCKS for 15-minutes
Regular callers may purchase a package.
Call 1-888-669-6389. Credit/debit and gift cards accepted.

«